Food and Shelter is still looking for volunteers to help prepare, serve or deliver the thousands of free meals it will provide for the Norman community this Thanksgiving.
The organization is returning to Norman High School this Thanksgiving — after relocating last year due to the pandemic — for its annual Thanksgiving meal, served from 11 a.m. to 1 p.m. Thanksgiving Day. Norman High is at 911 W Main St.
Food and Shelter is offering multiple options for those who need a meal and for those who want to serve, Executive Director April Heiple said. The nonprofit is gearing up to serve 1,200 to 1,400 people and has been prepping for the meal since summer, she said.
The nonprofit heavily needs volunteers right now, Heiple said — currently, Heiple has just 30% of the registered volunteers she needs for Thanksgiving.
"We've been working on this event already since probably end of July (or) first of August," Heiple said. "And as with every event like this, we rely heavily on volunteers to not only show up on the day to help us start cooking early in the morning and packing meals and delivering out to people — we have volunteers coming in even the week of Thanksgiving to help just chop vegetables and open cans of green beans, and just do some of those things that take a lot of time and effort."
Those who need a Thanksgiving meal or a place to celebrate can eat at Norman High, get food to go or even sign up for a delivery, Heiple said.
Food and Shelter will offer Thanksgiving grocery bags and will have its food pantry open the week before the holiday for those who want to cook at home but may not have the resources (Norman's First Baptist Church and Mission Norman also offer Thanksgiving food/grocery baskets to those needing them this year).
Those interested can have a meal delivered to them, or can grab a to-go meal from Norman High, Heiple said. As always, the in-person meal at Norman High will be open to anyone.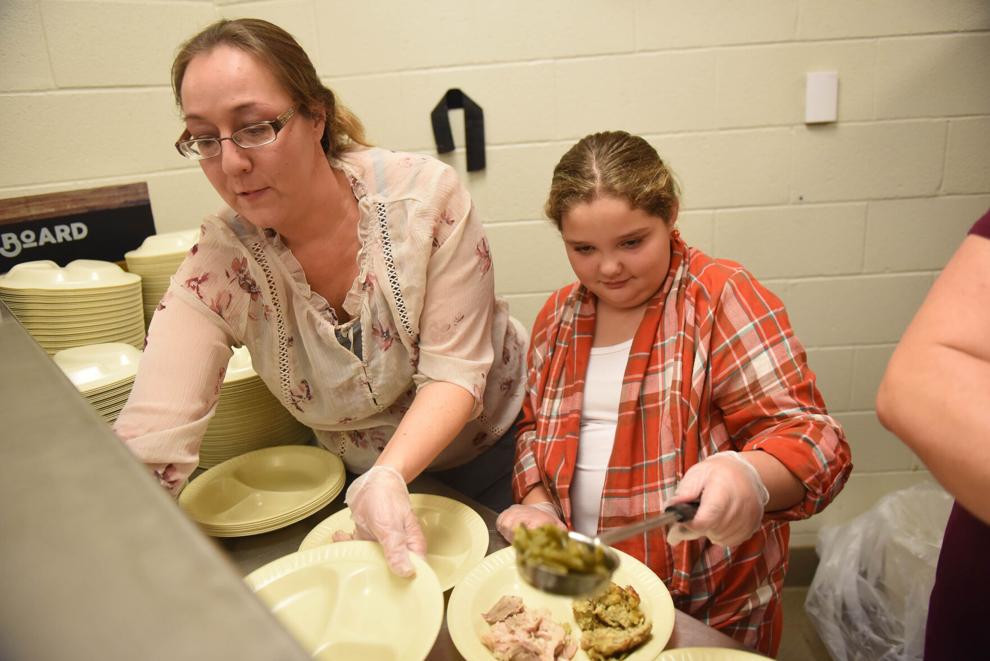 Heiple has been celebrating Thanksgiving with Food and Shelter for 11 of the nonprofit's 30-plus years offering the holiday meal, and said in those years, she's seen the event become a festive family experience.
"We decorate the cafeteria real festively, and we have just volunteers and their sole purpose is to greet people and share time with them, to sit and talk to them and listen to their stories and make it more like a family meal, as opposed to a charity meal or a service," she said. "And over the years as that piece has kind of become more ingrained in it, it's just a really sweet and special thing to see people from all over our community coming in and sharing Thanksgiving like they're family, and I always really enjoy that."
Heiple said volunteers can find opportunities — including family-friendly assignments — on Food and Shelter's site at foodandshelter.volunteerhub.com.